Welcome to WCDS, Ms. Pardo!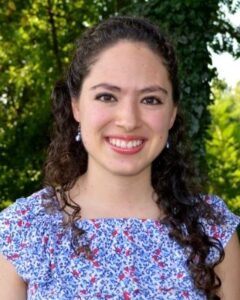 Ms. Adela Pardo joined WCDS this Fall and teaches Spanish to Middle and Upper School students. Her education spans from Mexico City, where she studied Education for two years at Universidad Panamericana before transferring to Christendom College in Front Royal, to complete her Liberal Arts degree. She brings a bilingual background and an international approach to her teaching style, making her a perfect fit for students in 2020. She lives in Front Royal with her two brothers who also attended Christendom College.
Ms. Pardo has enjoyed her first few months at school and felt very welcomed by both faculty and students. She commends the WCDS approach to starting students in Spanish at a young age while noting their classes in Latin help their Spanish skills as well. WCDS students learn difficult grammar and sentence structure at a young age, which she feels are the building blocks of language.
As far as her teaching style, she sums it up very succinctly; "good teachers give confidence in their students that they can do anything. When you trust in students to do well, they do well."
Please say "hola" to Ms. Pardo.
What is it that attracted you to education as a career?
I wanted to be a teacher ever since I was seven years old. I would set up a classroom in my bedroom and would teach my little brothers. I see teaching as a vocation or a mission to help others, especially children who are most in need of guidance.
What is your teaching philosophy?
I think students learn best when they fully appreciate the subject matter they are learning. They need to pursue knowledge, not because it is more or less useful but for its own sake. They have a natural inclination and a capacity for knowledge that needs to be cultivated carefully. Like a plant, knowledge tends to grow by itself but grows better if it has water, fertilizer, light, etc. Sometimes, it needs some "pruning" or loving discipline. The role of a teacher-as- "gardener" is to help the plant reach maturity so that it may continue to grow on its own. A teacher needs to believe in the student's capacity to grow.
What do you think makes an impactful teacher?
An impactful teacher knows and, especially, loves his subject matter--and is able to transmit both his knowledge and his love. He is also able to convey confidence to his students that they are perfectly capable of learning the subject matter with some effort.