At Wakefield Country Day School we seek students and families who embrace our mission with its equal emphasis on character and intellectual development. We are a close-knit community where families are welcomed and involved. WCDS provides a rich and engaging classical education. Students who desire, and can commit to a challenging curriculum, will succeed. We work closely with families to provide the support and encouragement students need to thrive.
OPEN HOUSE
Every day is a good day to visit WCDS!
Please contact the Admissions Office to schedule a tour.
Admissions Office
Director of Admissions
Suzanne Zylonis
direct line: (540) 635-8555 ext. 227
fax: (540) 636-1501 (ATTN: Admissions)
"Please call me directly or complete the inquiry form on this page. I look forward to hearing from you and having the opportunity to introduce you to our outstanding school and learning environment."
Registrar
Marsha Dowell
mdowell@wcdsva.org
540-635-8555 ext. 225
fax: (540) 636-1501 (ATTN: Registrar)
International Program
Each year WCDS admits International Students who are proficient in English and ready for the academic challenges they will face. They are fully integrated into the community, and most live with WCDS host families.
All applicants for grades 2 and above must sign and provide this transcript request to their current school.  For home schooled families, please work directly with the Admissions Office to determine information requirements.
This scholarship has been established in honor of a WCDS alumnus, Army Second Lieutenant Leonard M. Cowherd, III, who died May 16, 2004 in Karbala, Iraq, while in the service of his country.
WCDS partners with families to make our outstanding educational program available to any student who can benefit from it. 100% of families with demonstrated need receive assistance via scholarships or financial aid. Of those families who are offered financial aid, most accept their financial aid award and enroll their children, as they determine that the award offered is sufficient to meet their needs.
If families believe they cannot afford paying full tuition, they are encouraged to apply for tuition assistance through FAST (FINANCIAL AID FOR SCHOOL TUITION) powered by Independent School Management. Please note, however, that no family at WCDS receives full tuition assistance. All families are expected to pay something toward their children's education
For our Preschool and Prekindergarten students who qualify, WCDS is partnered with DSS and a registered subsidy provider through ChildCareVA.com.
Advanced Classical Diploma: 32 Credits
8:  Credits of English ~ Literature, Composition, Vocabulary, Grammar
5:  Credits of Mathematics ~ Algebra I, Geometry, Algebra II, Pre-Calculus, Calculus or Statistics
4:  Credits of Science ~ Biology, Chemistry, Physics, and an AP Science
4:  Credits of History ~ World History, U.S. History, U.S. Government, and either European History or Comparative Government
6:  Credits of Modern Foreign Language ~normally French or Spanish AND  Ancient Language ~ Latin IA, Latin IB, Latin II, Latin III
Students may earn a minimum of 3 in each or 2 in one and 4 in the other.
1:  Credit of Fine Arts ~ Art History, Art Media, or Studio Art
1:  Credit of Electives ~ Yearly offerings will vary
3:  Credits of PE/Varsity Team ~ Credits may be earned by playing or managing a sports team, ½ credit per team, up to 1 credit per year
Classical Diploma: 28 Credits
International Diploma: 28 Credits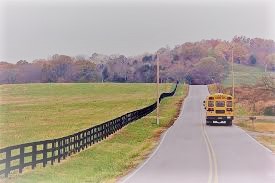 Bus routes currently serve families in eight counties:
Frederick, Warren, Page, Fauquier, Rappahannock, Culpeper, Shenandoah, and Prince William.
Current bus stops include locations in Winchester, Front Royal, Bentonville, Chester Gap, Luray, Culpeper, Woodville, Boston, Sperryville, Washington, VA, Gainesville, Warrenton, Amissville, Marshall, Orlean, Huntly and Flint Hill.
Bus stops adjusted to meet family needs.