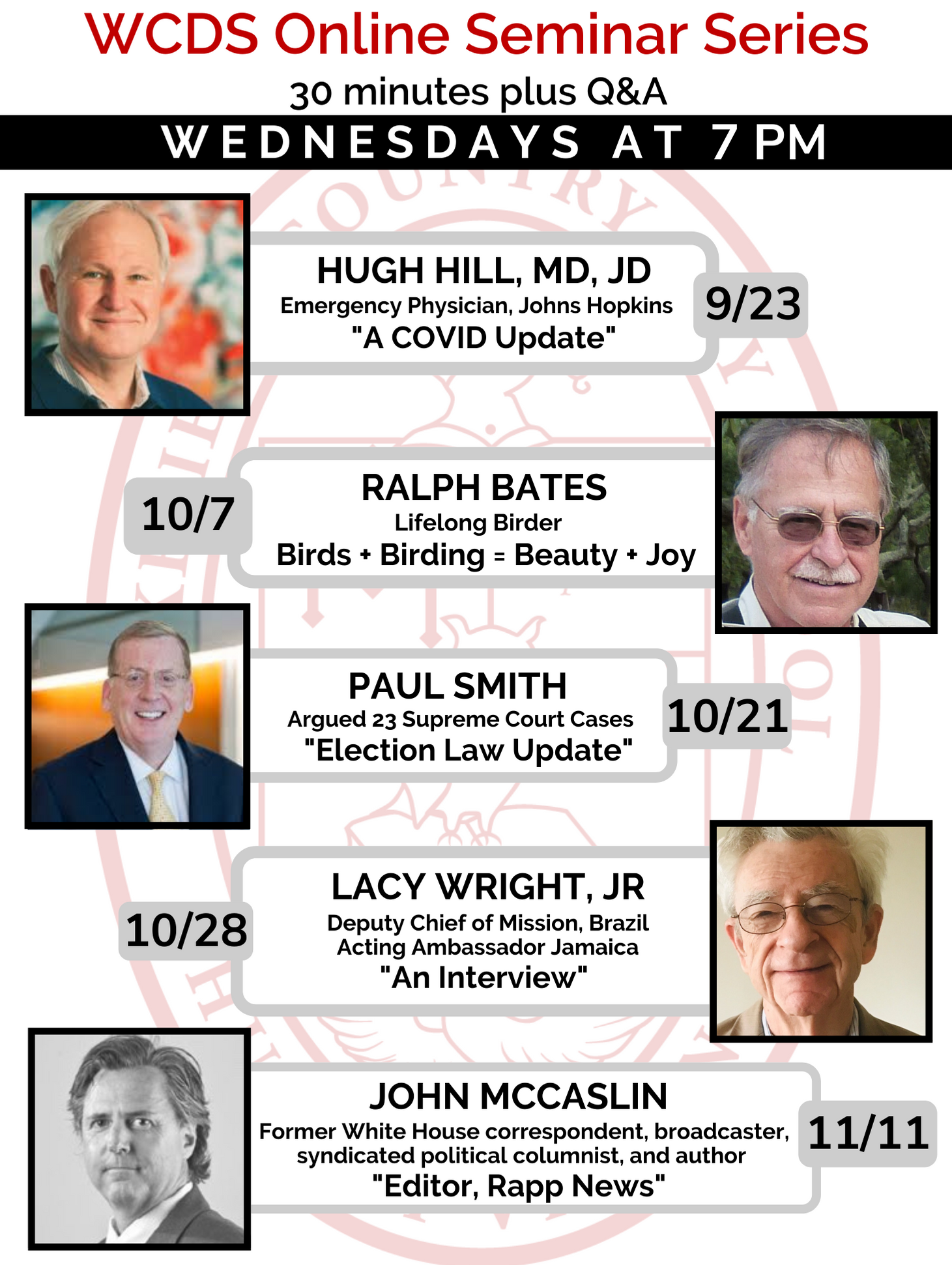 At times like these we all need to think what we can do to help.  As a modest gesture of our appreciation to the communities we serve, we are offering the following free online programs for adults and youngsters given by our Faculty, Adjunct Faculty, and friends.
-Paul Larner, Chairman
We will send you a weekly email with access to each presentation!
*Please register 24 hours ahead of time 
PREVIOUSLY RECORDED
"A COVID Update" by Dr. Hugh Hill, MD, JD. Recorded. FACEP, FCLM, Professor, Department of Emergency Medicine, Johns Hopkins University School of Medicine
"Catfish Farming in the US" by Dr. Terry Hanson. Recorded. Aquaculture Economist at Auburn University's School of Fisheries, Aquaculture and Aquatic Sciences in Auburn, Alabama.
"Becoming American: Rappahannock-Born US Colored Troops" by Terry Miller. Recorded. BA, Texas Christian University, Doctoral Studies Brandeis University, MBA University of Maryland. Founding curator of three museums: John J. Wright Educational & Cultural Center Museum in Spotsylvania, Virginia; the Lawrence E. Graves Museum of Dunbar History in Washington, D.C., and the Carver 4-County Museum in Culpeper, Virginia.
"Rapp Real Estate in the COVID Era" by Cheri Woodard. Recorded. Rappahannock resident over 40 years, entrepreneur and leading real estate agent in the Heart of the Piedmont.
"Women in the Work Place: Title VII of the Civil Rights Act of 1964" by Steph Ridder. Recorded.  BA Harvard University, JD University of Virginia School of Law.
"My path from Soviet Russia to Algerian global icon, Emir Abdelkader." by John Kiser. Recorded. Author of several books, businessman and social entrepreneur. Topic based on his book - Commander of the Faithful: The Life and Times of Emir Abdelkader (A Story of True Jihad), a 19th-century Muslim leader, who exemplifies the best of an often misunderstood and maligned religion.
"Raising Cattle in Rappahannock." Presented by John Genho. Recorded. BS in Animal Science from Brigham Young University, an MS in Animal Breeding and Genetics from Cornell University with a minor in biometrics and statistics, and an MBA from Duke University.
In the footsteps of Caesar - Travel through Northern Italy and France Recorded   Welby Griffin: WCDS Faculty; AB, Bryn Mawr College, WCDS Alumna, 1995
Credit Card Travel Perks: Learn the Tricks of the Trade. Recorded Paul Larner, Chairman of the Board, UVA Law
COVID 19 -- the Election and Census Recorded  Paul Smith:  Yale Law, Trustee of Amherst College, argued 21 cases before the Supreme Court
Virology Recorded  Dr. Hugh Hill:  JD, FACEP, FCLM, Professor, Department of Emergency Medicine, Johns Hopkins University School of Medicine
International Trade, Greg Rushford:  Part 1  Part 2  Part 3  Editor and Publisher of the "Rushford Report"
COVID-19, Dr. Jerry Martin:  Recorded  Family Medicine, Washington, Virginia, Rappahannock Medical Center.  Practicing for more than 20 years.
Physical Therapy, Tom Papke:  Recorded  Practicing physical therapist with over 30 years of clinical experience, Marquette University
Economics- Principle of Resource Scarcity, Tim Nolan:  Recorded  Former CIA intelligence officer, UN Development Economist
What do we do with that 'EXTRA' money, Chuck Akre, Recorded  CEO & CIO, Akre Capital Management, over $14B under management
Photography, DSLR & iphone, Sarah Mattingly, Award winning, independent digital photographer, WCDS '83
Marketing Your Small Business:  Social Media Marketing Basics, Abby Larner, Recorded  Acrobat & Illustrator expert for Adobe
Quarantine & the Environment- Discussions on How to Maintain the Trend, Kate Wofford, Recorded Part 1   Part 2  Alliance for the Shenandoah Valley
Scrabble School History, Nan Butler Roberts:  Recorded  Additional Materials Speaker, Author and Musician, MA GWU
Credit Card Travel Perks:  Learn the Tricks of the Trade Paul Larner: Recorded CAO Vornado (NYSE:  VNO), UVA Law
In the footsteps of Caesar: Travel in Italy & France Welby Griffin: Recorded