By: Tara Johnson, Theatre I teacher, 9th-12th grade
Through hard work, collaboration, and bravery (it's scary to get up in front of a crowd!), the high school thespians at WCDS are ready to perform a One Act comedy entitled: "This is a Test" by Stephen Gregg!
Wakefield's Theatre class is off to a stellar start! Once the roster of 12 was set, much consideration was given to the One Act selection. We focused on a script that included both genders and highlighted an array of talent and experience levels. Auditions were held, the play was cast, and production began. Props, scenery, costumes, and microphone logistics were then established. The eager actors had a drop-dead date to be "Off Script" (meaning they had to memorize all their lines and stage directions). In addition to daily play practice, students simultaneously prepared monologues. They performed them at a recent Wednesday Assembly to become more comfortable being on stage in front of a large audience. This semester we also collaborated with the Little Washington Theatre. Their Martin Luther King Jr. presentation was recorded and will be broadcasted in January, yet another helpful preparation for their One Act performance!
The One Act play has taught our Wakefield scholars numerous real-world applicable skills. For example, the importance of collaboration, attention to detail, time management, working as a committed team, staying humble, being a supportive member of a group, conquering fears, the significance of quality preparation and fastidious repetition, flexibility, following directions, and recognizing joy.
Speaking of joy, Mrs. Mullany's high school art class graciously created scenery. The more Wakefield students involved with this production, the better!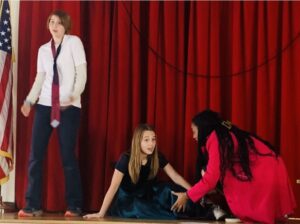 ---
About Mrs. Johnson
Tara E. Johnson studied English, Communications, Acting, and Dance at Elizabethtown College in PA and at Cheltenham University in England. Mrs. Johnson has appeared in a plethora of ballets, musicals, and theatrical performances. In addition, Mrs. Johnson has directed and choreographed full-length productions of; Little Red Riding Hood, Alice in Wonderland, Smarty Pants, Shrek, Madagascar, Beauty and the Beast, The Nutcracker (abridged), The One and Only Santa Claus, Grease, The Wizard of Oz: Deleted Scenes, and Footloose. In addition to being an English, Mythology, Writing, ASL, and Theatre teacher in public and private schools, Mrs. Johnson is also a professional Voice Over Artist and an Interpreter for the Deaf (attended Gallaudet University for Graduate School), has traveled the world, is a returned U.S. Peace Corps volunteer (stationed in Turkmenistan), and loves; reading suspense/action/mystery novels, camping at Claytor Lake, coffee, her two teenage daughters, four dogs, and two horses. Mrs. Johnson is grateful for her many blessings, among them being a part of the WCDS faculty!!!