Welcome Ms. Stynes
You may have spotted Ms. Stynes on the front lawn reading a book to our youngest students under a tree at the end of the day. Ms. Stynes joined WCDS with experience ranging from Headstart in Culpeper to The Goddard School in Gainesville, as well as the Langley Children's Center in McLean.
Ms. Stynes' style of teaching involves sharing life lessons all of us can relate to, such as: "It doesn't matter where you are in line because we're all going to the same place." Her style is autonomous by nature, allowing freedom within a structure and holding space for her students to express their emotions.
Ms. Stynes earned her undergraduate degree at Mary Washington and received her Early Childhood Education certification from Ashworth College. WCDS is excited to have Ms. Taylor Stynes in our community!
What is it that attracted you to education as a career?
The reason I wanted to become an early childhood educator is that I have a genuine love for learning. I remember playing teacher with my younger brother, Corbin. I remember that I enjoyed being outside and using my imagination. I would pretend that the bushes were a magical portal or an old house. I used mud and rocks as the ingredients to bake a cake. I remember being so captivated by trees and wondered what was inside their trunks. I can vividly remember those hands-on experiences and how they drove my desire to learn more and explore the world around me. These important moments are what shaped me and created some of my fondest childhood memories. Ultimately, these early adventures are what now fuels my teaching philosophy and what made me fall in love with being a preschool teacher.
What is your teaching philosophy?
Children are innately curious beings, as many of us are. I believe children learn best through their own experiences, thus developing their unique interests. My role as a teacher is to give my students the tools with which they can embark on a journey to discover their love of learning, through their own sea of knowledge. In any setting, especially in my classroom, it is essential the children are valued, nurtured, and respected as emerging individuals. I am dedicated to helping these children reach their fullest potential and nourish their creative minds.
What do you think makes an impactful teacher?
To genuinely connect with children
The ability to listen
To respect children for who they are and who they want to be
To understand the needs of children
Believe in your students when others might not
To be mindful and reflective
To not sweat the small stuff
What are you most excited about working at WCDS?
I am excited to be an educator this year at Wakefield Country Day School because of the beautiful countryside, diverse community, faculty support, and involved parents. The potential to see my students grow from preschool to senior graduation is unique and rewarding.
Two books that have influenced my life are:
The Tao of Pooh by Benjamin Hoff
Love Poems by Pablo Neruda
I also love reading poetry, and anything about early childhood development, philosophy, and psychology, my go-to topics of interest.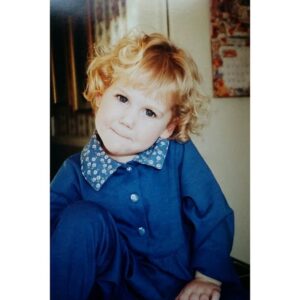 Ms. Stynes as a preschool student