Mrs. Tara E. Johnson studied English, Communications, Acting, and Dance at Elizabethtown College in Pennsylvania, Cheltenham University in England, and American Sign Language at Gallaudet University in Washington, D.C., for two years. Gallaudet is the only all-Deaf college in the world, first signed into being by President Lincoln in 1864.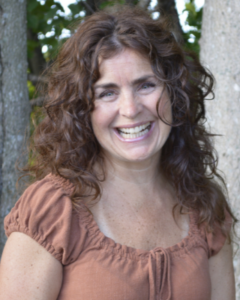 Mrs. Johnson has appeared in a plethora of ballets, musicals, and theatrical performances and has substantial experience in directing and choreographing. A few full-length productions on Mrs. Johnson's resume to note are: Little Red Riding Hood, Alice in Wonderland, Smarty Pants, Shrek, Madagascar, Beauty and the Beast, The Nutcracker (abridged), The One and Only Santa Claus, Grease, The Wizard of Oz: Deleted Scenes, and Footloose.  
In addition to being an English, Mythology, Writing, American Sign Language, and Theatre teacher in public and private schools, Mrs. Johnson is a professional Voice Over Artist and an Interpreter for the Deaf. She has traveled the world, is a returned U.S. Peace Corps volunteer, and loves; reading suspense/action/mystery novels, camping at Claytor Lake, coffee, her two teenage daughters, four dogs, and two horses.  
Mrs. Johnson dynamically teaches by nurturing and challenging students academically, socially, and morally to achieve success by implementing out-of-your-seat, group collaboration, hands-on lesson plans in an engaging, energetic manner while accommodating an array of academic styles.
Mrs. Johnson on the "Grease" Production: "Grease was, by far, my absolute favorite one to direct, produce, and choreograph because my entire family was involved. Both of my parents and both of my daughters were in the cast. My husband built the set, and my daughters painted it. My one daughter even helped choreograph and block the entire full-length production. For months, my family and I ate dinner on the stage together and worked until midnight to create a phenomenal show. My cast was spectacularly/wildly talented and close-knit. Since none of them knew each other beforehand, I organized numerous bonding activities to make their chemistry on stage authentic (dinners, movies, talent shows, family nights, etc.)."
Wakefield Country Day School is thrilled Mrs. Johnson will share her gifts with the WCDS student body this year!