Students in Mrs. Hampton's AP Language and Composition class were set the task of coming up with a Proposal for a Community Service Project as part of our unit on Community Building and Civic Responsibility. The class was divided into groups of five, and each group was responsible for their own project. Along with determining what their projects should be, they also had to give a specific job to each member. Jobs included Group Leader, someone to write the Introductions and Conclusion, someone to write the Background and Need for the kind of Project they had chosen, someone to write the Body of the Proposal, and someone to prepare a Power Point and all visual aspects of the Proposal.
Below, in their own words, each Group Leader explains their Proposal.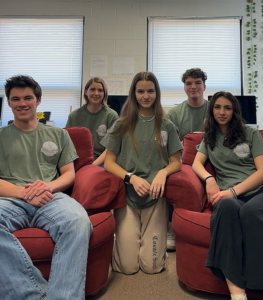 Project One: Service for SeniorsGroup Leader: Arella Nagle Group Members: Peter Miglino, Finn MacPherson, Carmen Blankenship-Breedon, Mary Lindsey When tasked with creating a community service program that would be beneficial to both the community and the individuals within it, my group was initially stumped. It was difficult to come up with a program that was needed in Rappahannock County and that would be cost-effective long-term. After numerous discussions, we realized that creating a volunteer program to help the elderly with yard work and housework that they are unable to accomplish themselves would not only be beneficial to the community but would also put in place something that was non-existent within the county. Our program, Service 4 Seniors, is a non-profit organization designed to provide care to the elderly in Rappahannock County who struggle to accomplish many common manual tasks. Our group of volunteers will provide the senior citizens with services such as mowing their lawns, trimming their hedges, gardening, shoveling their snowed-in driveways, performing basic indoor cleaning, and more. Anyone can enlist as a volunteer within the program, but Service 4 Seniors would connect with schools across the county, providing an incentive to earn extra credit or community service hours. It is extremely important that a program like this be established within Rappahannock County because more than half of the population is over the age of 50. Moreover, most of the people in the county own a significant amount of land that they are unable to manage. Because Rappahannock County's houses are so spread out, these residents are also isolated from others who might be able to help them. Overall, our goal is to not only serve the elderly, but also to provide the community with opportunities for growth, companionship, and the overall beautification of the county.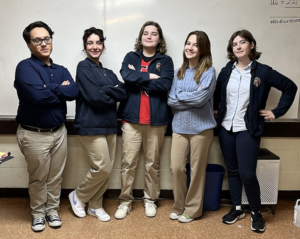 Project Two: Front Royal Next Gen - A Youth Center ProposalGroup Leader: Sophia Miglino Group Members: Tristan Mattingly, Mia Miller, Alessia Guzzetti, Ella Clemmer I am thrilled to be able to share our community project with you all. Our group decided to create a youth center in Front Royal, or as we call it, Front Royal Next Gen. The main reason for this center is to help at-risk teenagers in Front Royal and create an environment centered on the youth. We wanted to develop a safe place for kids in the area because we realized that, as Wakefield students, we already have our own safe place that we sometimes take for granted. With the goal of benefiting the local youth, we got to work planning and creating our project proposal. Because our proposal was meant to be a formal one for the Front Royal Board of Supervisors, we were fully aware of the formal aspect of the project and the amount of detail required. We decided that our youth center would cater to the ages of 11-18. It would provide recreational activities, study rooms with wifi, and counseling. The center itself would be volunteer run. Our funding for the project would come from bank loans, government grants, fundraisers, and donations, and it would be located in downtown Front Royal. The goal for this project was to work together to find ways to benefit our local community. We found that the more we communicated and worked together, the more successful we became. So, while our youth center may currently be a jumble of teenage ideas and dreams, it is our hope that it can one day become a tangible, joyful facility for kids everywhere.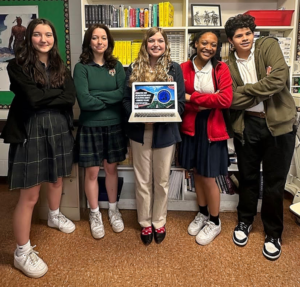 Project Three: Farmerly FelonsGroup Leader: Annliese Miglino Group Members: Henry Argueta, Jeannel Dolcy, Claire Mullens, Sophia Korte Our goal was to practice working well in a group while also creating a well-written project proposal and presentation. The groups had five members each, all with different roles. My group, Farmerly Felons, decided on helping the previously incarcerated population in Culpeper County, Virginia. We did our research and found that, in Virginia, one of the counties with the highest incarceration rates is Culpeper. We wanted to do something to combat these high incarceration rates and the resulting increase in recidivism rates. We decided to propose renting a part of a farm in Culpeper as our base of operation and providing counseling, work opportunities, and education for ex-convicts. They would have the opportunity to help out on the farm, but also to receive counseling from qualified volunteers and education about important subjects such as going back to school and finding a job. This project would take around a year to start up and, in addition to our many volunteers, we would have a salaried manager to oversee our operation and assure its success. This project will benefit ex-convicts and the Culpeper community as a whole because the ex-convicts will receive the help they need, and Culpeper will be a safer, more productive community when recidivism rates are lowered and prisons are no longer overcrowded.
Great job, WCDS students!
---
All WCDS scholars participate in athletics, fine and performing arts, and their education culminates in a year-long senior thesis project. Additionally, teachers place a strong emphasis on ethical responsibility, inclusivity, honorable conduct, and leadership within our community and beyond.
Click here to learn more about WCDS and schedule a tour.