Throughout the academic year, the students of journalism, yearbook, and film classes at Wakefield Community Day School(WCDS) have embarked on an incredible journey, crafting a diverse collection of films that highlight their artistic prowess and storytelling abilities. From conducting interviews and editing footage to conceptualizing and filming captivating narratives, these talented individuals have poured their hearts and souls into creating cinematic masterpieces that deserve recognition.
Journalism Students Unveil Faculty Spotlight Series
Under the guidance of their instructor, Ms. Z, journalism students took on the ambitious task of interviewing WCDS Adjunct Faculty members. From planning the questions to coordinating the interviews, these aspiring journalists showcased their skills in every aspect of the production process. Additionally, they handled the edits, uploaded the films to YouTube, and even developed a cohesive theme for the entire series. This comprehensive approach truly reflects their dedication to presenting the stories of their esteemed faculty members.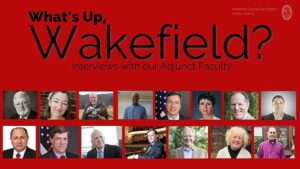 An Education of a Lifetime: A WCDS Journey
A Film by WCDS High School Theatre Class: The WCDS High School Theatre class ventured into the world of film creation by conceptualizing, scripting, coordinating, filming, and editing a remarkable piece. This film follows the transformative journey of a preschool student as they navigate the Wakefield experience and eventually graduate. Through their creativity and teamwork, the students brought this heartwarming story to life, capturing the essence of growth and accomplishment within their educational community.
Te Amo, Wakefield! 
A Multilingual Celebration: Inspired by the rich diversity within WCDS, journalism students crafted the film "Te Amo, Wakefield!" In this delightful piece, students interviewed individuals from various language backgrounds, asking them what they love most about Wakefield. The respondents, representing different cultures and languages, shared their heartfelt responses. This cinematic creation not only showcases the school's inclusivity but also serves as a celebration of its vibrant and multicultural community.
The 22-23 School Year at Wakefield
A Cinematic Masterpiece: Filmmaker Claire Mullins undertook an extraordinary endeavor, capturing a moment from every single day of the school year and skillfully compiling them into a remarkable film. The resulting piece, aptly titled "The 22-23 School Year at Wakefield," is a testament to Mullins' dedication, creativity, and attention to detail. This conceptual film offers viewers a glimpse into the daily life and experiences of the WCDS community, serving as a nostalgic and awe-inspiring tribute to the school year that unfolded.
The journalism, yearbook, and film students at WCDS have undoubtedly showcased their exceptional talents and dedication through their remarkable film projects. From conducting interviews and crafting narratives to capturing the essence of diverse perspectives, these students have embraced the art of storytelling in its various forms. Their commitment and creativity deserve applause, as they have not only entertained but also offered a glimpse into the vibrant tapestry of life at WCDS.
That's a wrap, WCDS Students!
---
All WCDS scholars participate in athletics, fine and performing arts, and their education culminates in a year-long senior thesis project. Additionally, teachers place a strong emphasis on ethical responsibility, inclusivity, honorable conduct, and leadership within our community and beyond.