WCDS Welcomes Mr. Looney to Music Program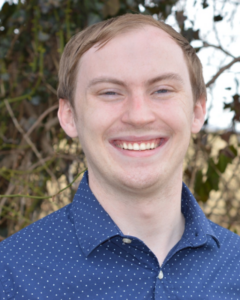 Mr. Looney began his music education journey shortly after he started talking, taking lessons in violin and piano, and singing in his church's children's choir. As soon as he took up the trumpet in the fifth grade, he decided that he wanted to be a professional musician. Mr. Looney joined WCDS with a wide range of musical experience, having worked as a performer, educator, composer, and arranger.
Mr. Looney's teaching style prioritizes improvisation and composition, honing the critical thinking skills of students and opening a new avenue for their creative expression. In his brief time at WCDS, he has expanded our upper-school music curriculum, most notably in the formation of a jazz ensemble for 8th –12th graders.
Mr. Looney holds two bachelor's degrees from Shenandoah University, one in jazz studies, and the other in classical performance. In addition to his duties at WCDS, his skills as a musician make him much in demand as a performer.
What three albums particularly influenced your musical development?
Pet Sounds - The Beach Boys
An Innocent Man - Billy Joel
Life on the Road - Adam Rapa
What excites you most about working at WCDS?
Due in no small part to my father's work as a Jeffersonian scholar, I've always admired the notion of the "renaissance man." I love the fact that WCDS students try their hands at so many subjects, and that they graduate with the tools necessary to become well-rounded leaders in whatever profession they choose.
What is your teaching philosophy?
I find that many young musicians shy away from performance out of fear of being judged harshly or failing to achieve perfection. With that in mind, I strive to create an environment where students need not worry about judgment and instead can actually learn to love mistakes. Ideally, they begin to view mistakes as learning opportunities and a way to develop their most authentic selves.