Once upon a time at Wakefield Country Day School, a few things, here and there, began to disappear.  Someone had been taking items that belonged to others.  Dr. William E. Lynn, Jr., Co-founder and Headmaster of the school, had seen enough and sought to put an end to the naughtiness.  He placed his own money, a twenty-dollar bill, into a basket on a table in the lobby for everyone to see.  He dubbed it "The Honesty Basket" and challenged the community to see if the money would stay put.  Not only did the $20 remain on display for all to watch, but in a strong show of esprit de corps people started to add to it—spare change, found money, trinkets of value—and soon "The Honesty Basket" was overflowing.  For the three hundred students enrolled in school that year, that little basket became quite the point of pride despite its unfortunate beginning.
Today the Head of School is Jessica Lindstrom, and sitting on her desk is a sacred container (an owl-shaped cookie jar) known by WCDS students as "The Honesty Jar."  During a given week, when students find any lost coins or bills, they visit Mrs. Lindstrom's office to deposit the money in the jar and receive a handshake from the Head of School, who thanks them for their honesty.  At the end of each grading period, Mrs. Lindstrom then asks the student body for suggestions as to where the unclaimed money should go.  Over the years, donations have been made to food banks, animal shelters, and the American Cancer Society.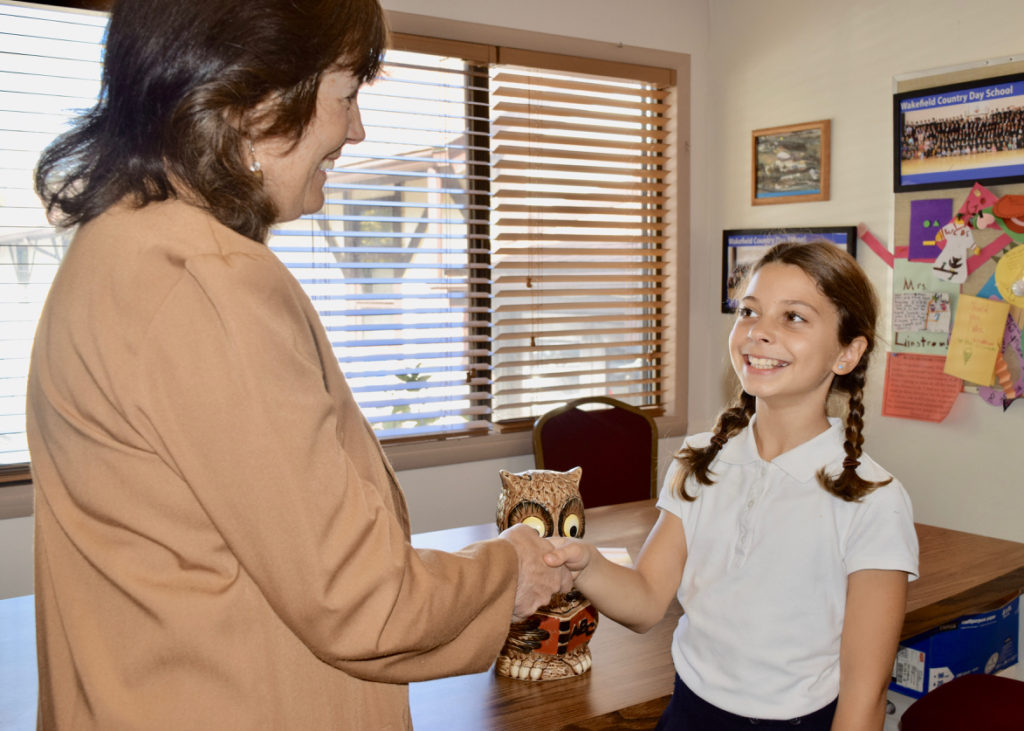 While baskets and jars may change with the times, virtues of integrity and trustworthiness are firm fixtures of the school. Most universities and schools have an honor code to define honorable behavior and expectations for academic integrity, but Wakefield Country Day School has that and more.
Because the school enrolls students of all ages, 3-18, it desired and developed an all-encompassing classical program to grow with the children, moving each child toward a virtuous life of caring, responsible citizenship.  Hence, the school takes a "Virtue of the Month" approach to reach and teach every person in the community.  Each month is designated a virtue from September through May: honor, responsibility, charity, humility, courage, citizenship, perseverance, respect, and wisdom.  Each month, the chosen virtue is discussed at length in classrooms, assemblies, and school newsletters, exemplifying age appropriate definitions and descriptions of the essential understanding of the virtue.
Looking back on Dr. Lynn's challenge to school members, it seems no coincidence that each new year begins with a focus on honor to set expectations high for personal and community integrity.
In advance of the school's traditional Honor Code Assembly, where all students in grades four through twelve recite and sign the Honor Code pledge, a Prefect Court is formed to lead students in understanding the tenets of the WCDS Honor Code they will pledge to uphold.  Prefects are a British tradition in which students, who model exemplary behavior and attitude, are tapped to be school leaders who assist teachers and administrators with guiding students in positive behavior.  Wakefield's Prefect Court is comprised of two students in each grade level 7th-12th, with one student appointed by administrators and one elected by peers.  It's important to note that at WCDS, prefects are seen as a "bridge" between students and authority figures, a very important support link in a school where students who commit or witness an act of dishonesty have the responsibility to report it.
As the newly formed Prefect Court is introduced to the school, so begins the yearlong conversation about the value of being honest in word and deed.  In literature books, on bulletin boards, in advisory groups, and on stage in the school's auditorium, students of all ages see what it means to be a person of honor who makes good choices.
"Even on the playground honor is discussed," says WCDS Librarian April Heddleston, who is in her twentieth year as a faculty member.  "Recently, a young student was explaining to me why he had lost some recess time.  He said that he 'touched someone by accident.'  Upon further questioning and a gentle reminder of the honor assembly the students had just taken part in, the student went on to say, '…well I actually touched someone on purpose.'  That's just one teachable moment made more understandable because of the ongoing discussion of honor taking place schoolwide," adds Heddleston.
As students grow older, some topics of honor become more nuanced or complex in social settings, such as when students learn ways to safeguard one's reputation and that of others. For this reason, boys and girls in grades six and above meet in small advisory groups for a peer study of monthly topics, where role-playing and goal-setting are popular activities for adolescents.  "We make sure to explore different scenarios where kids can discuss how they'd feel and how they'd react," explains Margaret DiDomenico, WCDS Dean of Students and sixth grade teacher, who works in tandem with the upper school advisors. The advisory curriculum, like the school's academic curricula, is a spiral curriculum that repeats and deepens in scope and complexity as students develop into young adults.
At all age levels, the purpose of the school's classical education is to cultivate virtue and wisdom.  From the playground to the classroom to the community, it's important for everyone to strive to be honorable.  The benefits are many and universal.  After all, it is in Rappahannock County that we see an old-time belief in honesty, where unattended cash boxes dot the countryside so folks can pay for their weekly eggs at a neighbor's farm stand.  Perhaps Dr. Lynn expected such optimistic confidence in 1972 when he chose Huntly as the location for the school.  And perhaps now, each time a student sees "The Honesty Jar" it's a small reminder of his belief that students come to know ideas best by seeing them embodied.