Wakefield Country Day School would like to honor our WCDS family members --  alumni and parents -- who are out there battling on the front-line during this unprecedented COVID19 global pandemic.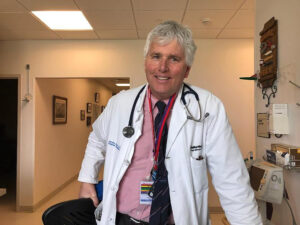 "On April 19, we transferred our first nursing-home patient to Winchester Hospital. The patient was coughing and had a fever; she tested positive for the coronavirus on April 21. At that time we had seven patients with fevers, so we transported them all to hospitals because we wanted our nursing-home facility free of sick patients. We then tested every patient and employee for the virus -- 65 patients were positive and 17 employees, including head nurses," recounts Dr. Jim Dale. "Over the next three weeks, I had the worst experience in my 37-years in Page County. A month after that first case came back positive, all but three patients of the 113 had tested positive, with 27 deaths due to coronavirus. The humanitarian crisis was as bad as the Bronx for that last week April and first-two weeks of May."
In this third of our four-part series, Wakefield Country Day School would like to thank Dr. Jim Dale, of Luray, Virginia, for his Herculean efforts to help his patients battle this worldwide pandemic.
Dr. Dale started his medical career in Philadelphia, Pennsylvania, where he received his medical degree from the Philadelphia College of Osteopathic Medicine. As part of the scholarship he received, he agreed to move to Luray, Virginia, in 1983, as Luray was considered medically underserved by the Department of Public Health. He and his wife Denise thought they could do the two years and return to Philadelphia. He started his medical practice, and by 1985 they had two children and had fallen in love with the beautiful county they now called home.
An avid basketball player, he played in a weekly pick-up game with a group of friends and found out about Wakefield Country Day School. He sent his eldest daughter, Maureen, to preschool in 1988, and when his son Pat was old enough, he went, too; both graduated from WCDS 15 years after starting. In 2015, the youngest of their four children, Maeve, also graduated from WCDS. "Wakefield Country Day School was one of the biggest reasons we stayed in Page County," says Dr. Dale. "It provided an excellent education, a good sports program, and taught the kids a really important lesson -- how to do hard things."
Maureen Dale, WCDS '03, went on to get her undergraduate degree and attended medical school at UVA. She did her residency and fellowship at UNC and is currently an Assistant Professor of Geriatrics at UNC and the Medical Director for Inpatient Geriatrics. She was also the commencement speaker at the 2019 Graduation Ceremony at WCDS.
Pat Dale, WCDS '07, also went to UVA for his undergraduate degree, and then studied medicine at the Medical College of Virginia in Richmond, Virginia. He did his internal medical residency at UNC, Chapel Hill, and is currently in the second of a three year cardiology fellowship at University of Texas, Southwestern, in Dallas.
"My wife Denise was on the Board of Directors at WCDS for several years, and served as the Board Chair. I, myself, was on the Board and also coached Varsity Basketball from 1999-2014. All told, we were a daily part of WCDS for 27-years, straight," adds Dr. Dale.
"Now, I spend my days doing rounds at the Hospital until 1 or 2pm every day, then go to the office and see patients until late into the evening. I do non-invasive cardiology and consultation in the emergency room. Six years ago, we had 5 doctors that rounded in the hospital; now we're down to one. When this whole virus hit, I worked every day from March 15 to May 4, straight. In fact, I wound up developing an arrhythmia and was transferred to Winchester Hospital; I had to get my heart shocked back into a regular rhythm -- they told me I needed to take a week off," says Dr. Dale. "And actually, it's been nice. It forces me to take some time off and I get to visit my youngest daughter, Maeve, WCDS 2015, in Philadelphia, where she moved last year to take a job in design after graduating from JMU.
Now, this nursing home is probably the safest place in Virginia. Except for 3 patients, everyone has had the virus and they have the antibodies; they can't get it and can't give it. So we're back to normal, for now. I feel like we're in the 2nd inning of a 9-inning game -- this is not over -- it's just as contagious, but it's been harder to get because of social distancing and wearing masks. In the fall it will come back, and in the winter when we have influenza, we won't be able to tell them apart initially; and it takes 3-5 days to get the results back after being tested. But just like my kids, I learned a long time ago to do hard things, so I'll keep doing them."
Thank you, Dr. Dale, for doing the hard things. Go Owls!
This article was featured in the Rappahannock News.