It wasn't too long ago when Adrian Wassel '10 attended Wakefield Country Day School, where his older brother, Damien Wassel F'07-'10 taught in between his Master's and Doctorate programs. Time stops for no one, and these brothers have made the most of the last decade.
Read on to learn how two brothers from Fauquier County started a comic book publishing company that now develops a wide range of media including film, television, audio productions, and video games!
Tell us about yourselves and your history with Wakefield Country Day School 
○ AW: I was a student at WCDS from 2007-2010, when I graduated valedictorian. I transferred to WCDS from a public school in Fauquier county. My brother, Damian, was teaching at WCDS at the time, and I desperately needed a change of pace, as well as a new peer group. I found both. 
○ DW: I taught upper and middle school mathematics from 2007 to 2010, in addition to AP Economics, Philosophy, and Film. While I taught there, Adrian attended Wakefield under the tuition waiver they offered at the time. Prior to that I studied mathematics and philosophy at William and Mary, where I graduated summa cum laude. I went on from Wakefield to complete a Ph.D. at the University of Michigan in Ann Arbor, before founding Vault Comics with Adrian and our cousin Nathan.
Favorite Memory from WCDS:
○ DW: I have two accomplishments from my time at Wakefield that I value most.  I had the privilege of teaching the same cohort of middle schoolers in sixth, seventh, and eighth grade, and then Head of School Kathy Grove gave me total curricular autonomy. When we began working together those students had never seen a variable. By the end of eighth grade they were all doing calculus. I also had the privilege of co-founding the boys lacrosse team with Adrian and coaching the team for three years. By the end of my tenure, the team won its district and conference championships and finished third in the state.
○ AW: I have a lot of favorite memories that are not, likely, fit-to-print. But among those that are, starting the WCDS lacrosse program with my brother, my father, and my classmates stands out—from JV to State Semifinals in three years. Having my jersey retired, along with some VA state records, was the icing on the cake. Beyond lacrosse, our trips to New Orleans to help rebuild after hurricane Katrina holds a special place in my heart.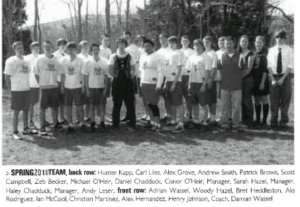 (Above: Spring 2010 Varsity Lacrosse Team)
Can you take us through the path from WCDS to where you are today?
○ AW: In Spring of 2010, I was all set to go to Cal Berkeley, my dream school. Got in, got my scholarship, even flew out to meet the dean. But the recession took our entire country to new financial lows, and the private scholarship I was awarded was no longer enough to make Cal Berkeley viable. So, on a whim, I applied to a new batch of schools. I was awarded a more substantial scholarship to go to CU Boulder. I went for a time, before transferring to the University of Montana, which was a better fit. I studied creative writing and literature, worked as a telemarketer, took odd jobs on ranches, helped run my school literary journal, and just kept writing and editing. Together with Damian and our cousin, Nathan Gooden, we self-published our first few comics, won some awards, and used that momentum to build Vault. 
○ DW: After Wakefield I completed a Ph.D. in Philosophy at the University of Michigan in Ann Arbor. There I discovered that while I loved research, other elements of the life of a university academic didn't suit me too well. Meanwhile Adrian, Nathan, my father, and I cooked up the crazy idea to start a comic company. And, lo and behold, here we are now.
Adrian, when looking through old yearbooks, I noticed your Senior Thesis was titled "Graphic Novels: A True Literary Medium", quite a bit of a precursor to where you are now, can you share a bit about how this all began?
○ AW: Oh, yikes. Probably best that no one goes back and reads that awful tome. All the same, yes, I was a comic book loving ultra-nerd then and am still one now. I had a great deal of support, but even more pushback, on my central thesis that comic books are, in fact, literature commensurate with any other form of storytelling. And I'm here to say again that anyone who tells you otherwise is not as well read as they'd like to believe. Nothing in my life makes me prouder than the work I've done in comics this last decade to make good on that central thesis. Vault, the comic book publisher Damian and I co-founded in 2017, has—in four years—sold close to two million books, spawned a TV show that aired in March 2020, and won numerous awards. I see more people reading comic books today than I did in 2010. Vault has contributed to that in many ways. I've become friends with many of my heroes, edited their work, and published their books. I count myself, well, the luckiest to work with so many extraordinary creators. They say to never meet your heroes; if that's true, you need better heroes.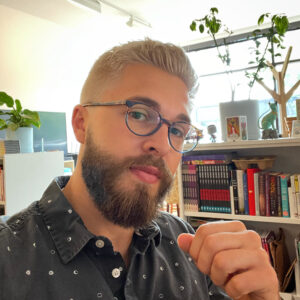 (Above: Adrian Wassel)
What does a typical day in the life of business owners and operators of a fast-growing media company actually looks like?
○ AW: Endless typing. If I'm not typing, I'm on the phone. I get up early, work long hours, squeeze in a workout, inside or out, then rinse and repeat. It's not glamorous. Hard work rarely is. But I like working. I go mad if I'm not overworked. Oh, and prior to the global pandemic, travel. We used to travel a lot. All over the country for conventions, and LA most frequently for Hollywood developments. Beyond our TV show, Vagrant Queen, we've got numerous feature films in development or pre-production (they take a bit longer to come to fruition). 
○ DW: I get to the office at a reasonable time--I prioritize sleep, there's simply no way for me to work well without a good night of sleep. And then I spend the day writing hundreds of emails, reviewing contracts, managing whatever crises appear out of nowhere, chasing leads on deals, etc. The work is hard, slow, and sometimes frustrating. But I love the job. 
If you could give any one-piece of advice to a student at Wakefield, what would it be?
○ AW: Oh, no. You shouldn't have asked me that! Anyone at WCDS who remembers me would have told you not to. Honest answer: be brave enough to love everyone. It is daring and terrifying and I can scarcely say I've managed one day of it in decades of trying. Expand your world every day through compassion. Love fiercely. Shatter the things that frighten you. Run far away from everything that keeps you comfortable or complacent, and keep close only those people willing to challenge you. Imagine a world in which you are so lucky as to have an open future and realize it is a world not many others can imagine. Then carry that dream to them—especially if they look, love, feel, sound different than you. Oh, and read. A good story will save your life. 
○ DW: Acquire skills. Find the things that excite you and learn to do them better than you thought possible. Your life and the opportunities it affords you will be richer for it.
What projects are you most excited about and what should we be looking out for from Vault Comics?
○ AW: That's probably the toughest question of all. I honestly don't know what to say. I love all of our projects. If you like comic books, or want to like comic books, reach out to me, I'll send recommendations! I guess, I am most excited to see our first wave of Young Reader comics hit shelves this year with the launch of our new imprint Wonderbound in September. But also, if you're not yet the biggest fan of comics (it's okay, I'll forgive you), check out the many audio books and audio adaptations of our series. You can find them on Audible! 
○ DW: What Adrian said.