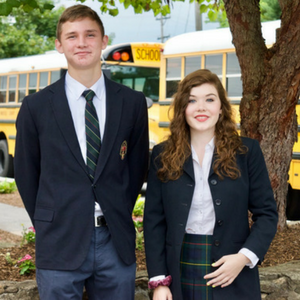 After a successful spring campaign, Kathryn Phillippe and Chris O'Heir secured the votes to become Student Government President and Vice President for our new academic school year, 2017-18.
Between the two students they have more than twenty-two years of experience attending Wakefield Country Day, and they believe this experience is what helped them to the top.
In just a short time they have heard the suggestions of their fellow students and acted swiftly to enhance school programs. Lunch menus were their first priority, and working closely with Ms. O'Neill they secured new partnerships with area restaurants to add some tasty new meals to the lunch program.
With a busy senior year ahead, Kathryn and Chris look forward to working on other initiatives with soon-to-be elected Class Representatives.  Stay tuned for those elections results in the coming weeks.