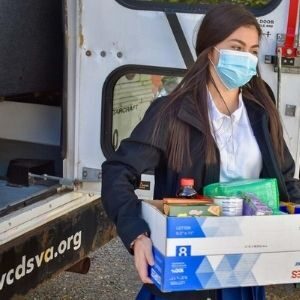 WCDS student Yancy Argueta helps to unload the 1,000-pounds of donated food.
Courtesy of Peter McMahon, WCDS 2021, Yearbook Editor-in-Chief
The Rappahannock Food Pantry is one of the many organizations the Wakefield Country Day School Leo Club partners with throughout the year. Collecting almost 1,000 pounds of food again this year, Leo Club President Owen Schuster helped to load and unload the haul on a recent brisk morning.
"We like to do what we can for our community," says Schuster. "Usually we visit retirement homes and do a reading-buddy program, but under the circumstances, this is one thing we can still do this year. So, we really want to try to do our best."
President of the Student Government Association, Peter McMahon, adds: "We're still able to hold our annual coat drive and participate in the Toys-for-Tots program. I'm just glad to be able to help out, especially when supplies are most needed and yet are the most scarce."
Says Yancy Argueta, a new student at WCDS this year: "I'm so happy to do something to help people in need. I never did anything like this at my old school; I love how WCDS students are involved in something important that benefits our community — I could hear the smiles of the Food Pantry staff under their masks!"
Find this article in the Rappnews.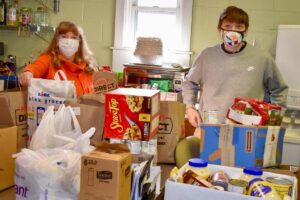 Leo Club President Owen Schuster is seen here with Mimi Forbes of the Rappahannock Food Pantry.
Courtesy of Peter McMahon, WCDS 2021, Yearbook Editor-in-Chief