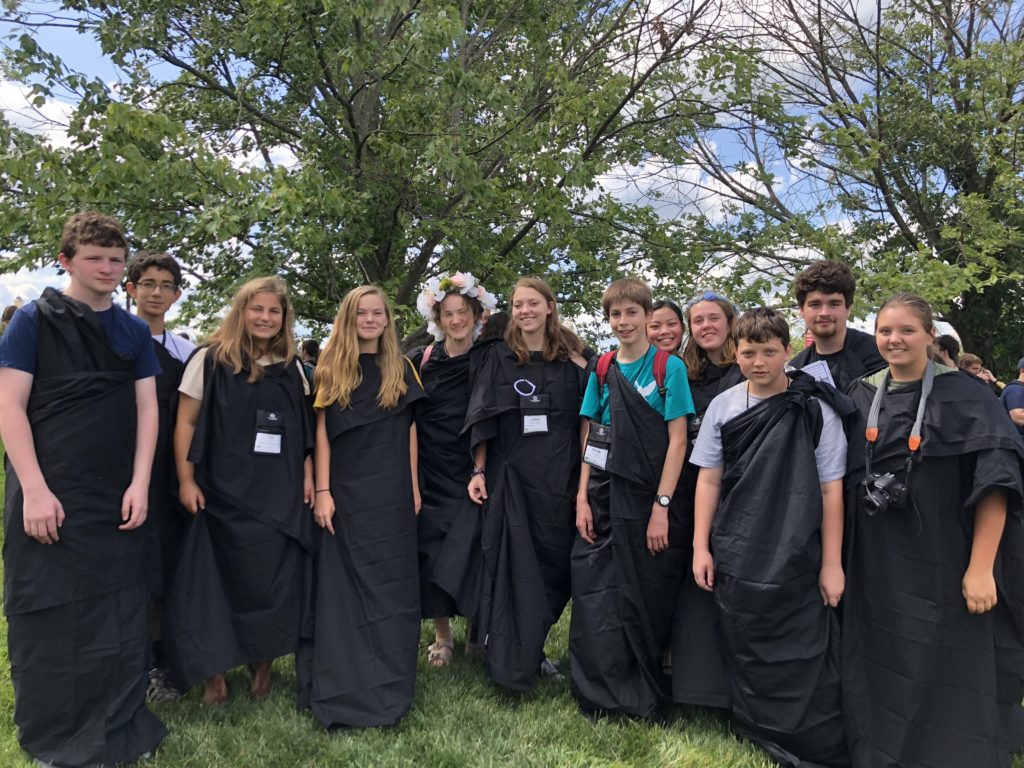 During the last week in July, twelve Wakefield Country Day School (WCDS) students ventured to Miami University in Oxford, Ohio, for the 65th annual National Junior Classical League (NJCL) Convention. Each year the event attracts over 1,500 Latin and Greek students from across the country who compete in a wide array of academic, artistic, and athletic events related to the study of the classics. The WCDS delegates ranged from grades 7-12 and excelled across a broad spectrum. Highlights in individual events included 8th grader Lincoln Day finishing 2nd on his level on the highly competitive Roman History Test and Liza Dareing bringing home a 1st place finish on her 3-D map of the travels of Odysseus while Bea Youngquist distinguished herself with a 3rd place finish in the English Oratory Contest.
Owen Schuster, Anna Schuster, Anika Pruntel, Lia Feit, Gwynn Major, Natara Dulaney, Scott Scoville, and Peter McMahon also achieved numerous top 10 finishes—the WCDS delegation earned over 70 in all.
In team events, Peter McMahon and Lincoln Day both played on the Virginia state team in the challenging and ultra-competitive form of Latin Quiz Bowl called Certamen. The team finished second, missing out on the national title by 5 points. Scott Scoville helped anchor an amateur team that won 1st place overall in the amateur division.
This event marked the final competition for senior Douglas Griffin, who capped an impressive six year career with a dominant finish. Griffin earned 1st and Best in Show on the Classical Art Test and 2nd on the Hellenic History and Classical Geography Tests, placing top 10 on several others. He also earned 1st place for his Dramatic recitation in meter of a passage of Virgil's Aeneid. Griffin earned eight first place commendations for a variety of graphic arts submissions and was awarded the top prize for overall achievement in graphic arts as well as the People's Choice Award for best individual submission for his charcoal rendering of the Arch of Trajan. In overall Convention standings, Griffin finished in 2nd place out of over 1,600 delegates (based on points awarded for each top 5 finish earned). He was also the recipient of the Rhea Miller Scholarship, one of a small number of highly competitive $1,500 NJCL scholarships awarded to graduating seniors. The younger WCDS delegates look forward to following his impressive example in this year's events.