Much of life is designed to take place indoors, sometimes forgetting about the outdoors. In response to COVID, WCDS created several outdoor learning spaces. Not surprisingly, we found students and faculty really enjoyed learning outside. Nine years ago, when Athletic Director Isabelle Heydt '11 attended WCDS, she recalls a nature trail that went around the perimeter of the property. With a plan in mind to revitalize this trail and expand our functional outdoor learning spaces, Heydt has steadily been laying the groundwork to make this happen by connecting the Potomac Appalachian Trail Club (PATC) with her Outdoor Club and Ms. Zylonis's Conservation Club. The PATC is a group of individuals responsible for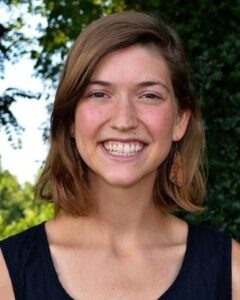 maintaining a portion of the Appalachian Trail and they are excited to bring a team to WCDS and teach students about trail maintenance, tips, tricks, and safety measures while being outside.
Heydt is no stranger to nature, having hiked the entire Appalachian in 2016 beginning in Georgia and 2,189 miles later ending up in Maine. When asked about the inspiration behind rekindling the nature trail, the first word that came to her mind was, "Stewardship...I want students to take ownership of a project that has a greater purpose for the school and the student body. Having an outdoor trail, kids will remember having and being in that space. That is what learning is, it's hands-on, it's experiential, and its student-driven. If kids are outside, they are learning. They are understanding their place in the ecosystem."
In a recent WCDS Online Seminar "Quarantine & the Environment: Discussions on How to Maintain the Trend" with Kate Wofford from the Alliance for the Shenandoah Valley, students took part in a conversation on their hopes and dreams for the future and the environment. You can find the recorded session here. Considering how COVID has changed our daily lives, this temporary pause has gifted us with time to become aware of our need to expand our green footprint.