Feeling nostalgic & wish to make a donation to your alma mater?
Welcome Back
The Alumni of WCDS are a vibrant and loyal constituency, returning to campus for graduation ceremonies, the College Panel, and traditional WCDS festivities like Homecoming and the Medieval Banquet. They also return for athletic events and enjoy the hotly contested Jon Lee Memorial Silver Bucket Game each December 26th. We count on our former graduates to spread the word about their positive past experiences and to return to mentor current students.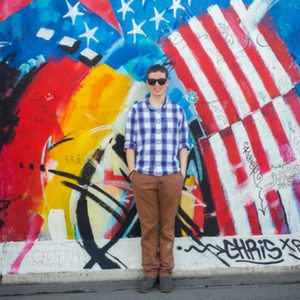 Our students know the benefits of learning a foreign language, and here they are in Continue Reading
WCDS is so proud of recent graduate, Monica Marciano.   She was recently featured in Continue Reading
Legacies
Two alumnae, Jen Vierling Thede, class of 1988, and Welby Lynn Griffin, class of 1995, currently serve as faculty members and help keep the school's institutional memory strong. An alumnus or alumna is always a voting member on the Board of Directors, as is a member of the Lynn family, founders of the school. Currently, three members of the class of 1984, Todd Landis, John Vanderzon, and Brett Haynes, along with Mrs. Pamela Lynn Tucker, retired WCDS Headmistress, teacher, and co-founder, serve on the 2017-2018 WCDS Board of Directors. Laura Beeton Carter, class of 1997 is the WCDS Development and Alumni Coordinator, and two other faculty members (Ann Landis and Bethany O'Neill) are spouses of Todd Landis and John O'Neill also a member of the class of 1984. Many children of graduates attend WCDS, and these legacies help strengthen the school's ties to the past. Currently members of the student body who are children of alumni are from the  Clark, Cosby, Dougherty, Griffin, Landis, Moore, Olmstead, O'Neill, and Thede families.
Each December 26th in the WCDS gymnasium, the Jon Lee Memorial Silver Bucket Game is held in honor of Wakefield Country Day School's first basketball coach, Jon Lee.
The game pits current students and young alumni who are recent graduates against older alumni who  try to prove they are able to win the game!
This year the younger alumni team led 15-10 at the end of the first quarter and 25-17 at the half.  They maintained their lead the rest of the game winning 52-35.  Alex Foster was on fire scoring 26 points, including six three-point baskets.  Daniel Chadduck and Chris O'Heir each scored 10 points with  Jeremy Kwolek, Gage Landis, Sam Lilburn, and Connor O'Heir also scoring for the team.
Andrew Smith led the older alumni team with 17 points, including four three-point baskets. Maxime Manzi added seven points. Patrick Brown, Daniel Larner, Michael O'Heir, and Brian Shafran also scored.
After the game students stayed for pizza and conversation, and a good time was had by all.
Support and raise awareness for fallen graduates of our nation's Service Academies.  $10 will be donated to WCDS for every bracelet that is purchased in honor of Leonard Cowherd, a WCDS Alum.
Most Recest Graduation Speakers
Todd Landis, Class of 1984, spoke to a large gathering in the Senior Garden on June 3, 2017. Seventeen seniors graduated that day, including his oldest son, Gage. During his speech, Mr. Landis, a former teacher turned pilot and graduate of William and Mary, told the seniors:
"Character is not your conscience, determination, drive, or honesty. It works in concert with these . . . . It is a small sliver of your personality that stays strong as long as you nurture it . . . Your conscience will alert you to what is right or wrong, but it is your character that determines which route you take, [and] when your determination wanes . .  . your character will reinvigorate the effort. . . . To borrow liberally from President Lincoln: 'Go out and continue the work that you have thus far so nobly advanced that has made us proud.'"
Attorney Thomas Dowell, Class of 2001, delivered the commencement address in 2016 to a graduating class of 21 students that included his brother Joseph, now a freshman at the College of William and Mary. A subsequent magna cum laude graduate of Tulane University and UVA's law school, Dowell advised the seniors to be bold and ever thankful for what they have.
G. Shawn Hunter, class of 1987, an Executive Producer and Vice President for Leadership Solutions at Skillsoft in Maine, delivered a dynamic address in 2015, encouraging the seniors "to do what it takes to make the greatest impact" on others "instead of going through life asking, 'What is in it for me?'" Mr. Hunter, also the author of two books, Out Think and Flipped Leadership, ended his address with directives for encouragement, telling the seniors:
"You can do anything but not everything, so consider thoughtfully what to think about; ask questions and trust others."

"Measure your success by what you give and not by what you get."

"Give compassion and kindness as generously as you can."
Tobias Dengle, class of 1989, was the graduation speaker for the class of 2014.  He offered the seniors these three pieces of sage advice:
"Always be prepared;"

"Test drive as many jobs as possible"

"Find and embrace what you feel passion for in your life."
In the heat of the afternoon sun, Mr. Dengel reminded the 2014 graduates that they "only have control within the context of the tides swirling around them and need to be prepared for wherever the current might take them." He encouraged them to "live life by pushing not by being pulled" and reminded them that, "as Aristotle first pointed out 2,300 years ago, the clearest road to happiness is when people . . . spend much of their time fully engaged.. . .The process of the work itself, not its fruits, are success and what breeds happiness in humans." He ended his speech by quoting lines from Alfred Lord Tennyson's poem, Ulysses.
"Though much is taken, much abides; and though We are not now that strength which in old days Moved earth and heaven, that which we are, we are –One equal temper of heroic hearts, Made weak by time and fate, but strong in will To strive, to seek, to find and not to yield."
Alumni Coordinator
Find out more about how you as an alumnus or alumna can become more involved by contacting the Alumni Coordinator.
Laura Beeton Carter, class of 1997

(540) 635-8555 ext. 232