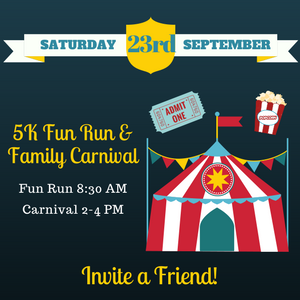 In a whirlwind of activities, the 5K Fun Run and Family Carnival will take place on a fun-filled Saturday in September.  With a moon bounce, tasty treats, and plenty of carnival games and prizes, children of all ages are invited to enjoy the outdoor fun.
Click here to download a registration form for the 11th Annual WCDS 5K Fall Fun Run and here to prepay.
Saturday September 23, 2017 in picturesque Rappahannock County
Registration ~ 8:30 a.m.* Leave for Race Starting Line ~ 9:15 a.m.
Entry Fee
Students ~ $15    All Others ~ $20
For advance registration, complete the form on the reverse of this flyer and mail or deliver with payment to WCDS.
Prizes will be awarded to the top two male and female finalists in the following age categories:
12 & under, 13-18, 19-39, 40-49, and 50+
*The first 25 Pre-Registered participants receive a t-shirt*
Contact Mike Costello for more information.
540-635-8555, x224 or mcostello@wcdsva.org
* Registration at the school, 1059 Zachary Taylor Highway, Huntly, Virginia.
Participants will be bused to the race start on Resettlement Road in Flint Hill.
The race will end back at the school.