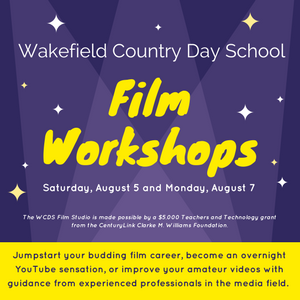 With the $5,000 Teachers and Technology grant from the CenturyLink Clarke M. Williams Foundation that WCDS received in May, we are building an in-school film studio, and all proceeds from the workshops will support our new studio.
Saturday, August 5 from 10 AM to 2 PM
Story Boarding with Tad Butler
Story boards translate the written ideas or script for a movie or advertisement into visual thumbnails that show the progression of each scene.  They are an essential step in shooting quality video.  Professional story boarder Tad Butler will lead a practical, hands-on seminar on story boarding for aspiring movie makers.  While Tad is a talented artist, don't worry if you don't know how to draw.  Tad's methods work for the artistically challenged as well as the experienced artist.  See Tad's work here.
Light snacks will be provided.  Bring a bag lunch for a working lunch session.

Monday, August 7 from 9 AM to 4 PM
Camera Operation, Movement, Lighting and Composition with David Brigham
Learn by doing as part of a production team while David Brigham guides you through camera settings and operation, composing the shot, and lighting the scene.  After explaining the theory and rules in the classroom, David will show you when and why to break them as each team works on laying out, setting up, and shooting multiple shots, both indoors and outside.  Participants will also learn why and how to move the camera for more complex shots using a dolly, slider, and Steadicam.  See David's 3-D art and animation here and work on short films here.
Light snacks will be provided.  Bring a bag lunch or visit one of our local establishments when we break for lunch from 12-1 PM.
Registration
Ten seats are reserved in each workshop for WCDS faculty and students in grades 8-12 until July 25.  Faculty are free but must register in advance.  Students pay only $15 per workshop or $20 for both.
After July 25, registration is open to all parents and members of the community on a first-come-first-served basis. Fees are $25 per workshop or $40 for both.  Each workshop is limited to 20 participants, so please don't delay in registering.
Enroll in the workshops by contacting Jeff Day or by calling WCDS, 540-635-8555. Please send payment made out to WCDS with "film workshop" in the note to:
Wakefield Country Day School
1059 Zachary Taylor Hwy
Flint Hill, VA 22627
Help us celebrate the birth of our new film studio by joining a workshop!